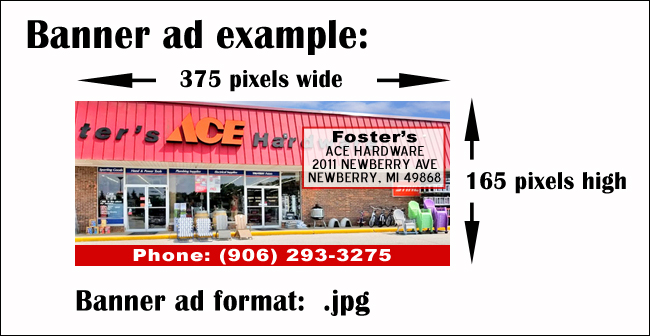 McMillan Township
Luce County, Michigan

Advertise with McMillan Township
McMillan Township is located in Luce County and is home to many local businesses, attractions, groups, and organizations. We are providing a great advertising opportunity that is affordable and available on every regular page of our website (excluding PDFs) 365 days a year. Our Banner ad placement is located below the content area. Ads slide through ensuring visibility for all who join up with us. These banner ads help support our Township and bring people to our local businesses and organizations. All banner ads a clickable directly to your website or facebook page.
---
Cost of Banner Advertising:
$100/per year

Billed in January of each year.

Horizontal Designed Ad Size:
Width = 375 pixels
Height = 165 pixels

Format:
.jpg
---
If you would like to advertise with McMillan Township, please call (906) 293-8798. If you need help designing your ad, Velvet Green Creations is here to help. Please contact us (after you have okayed your ad with the Township) at (906) 293-3625. We charge a one time fee of $65/ea. We appreciate your consideration in helping support our great endeavors.